Discover our Christmas gift sets
To spice up your dinners or light the fire and dazzle your Christmas tables, discover our gift boxes ready to slip under the tree.
Back in stock !
You've been waiting for them - now they're back and available for your Christmas gifts!
Our Universe
Furniture, decoration, lighting, tableware, fashion…
Our different worlds meet in harmony, linked by the same know-how.
Selection of Riviera Design vases | Maison Sarah Lavoine
Our Riviera vases have been shaped and enamelled in the traditional way. These iconic Riviera vases, streaked with our timeless colours, will add a contemporary touch to your most beautiful bouquets.
Selection of candles and candle-holders
Home collection by Sarah Lavoine
Discover our selection of decorative objects in the new colours of the collection: aubergine, forest green, ochre, and our timeless Sarah blue and lime blossom.
Our cushion collections
Geometric, monochrome, tricolour or graphic, the top-of-the-range cushions from Maison Sarah Lavoine open up an infinite range of possibilities, with contemporary patterns and c
Spotlight on the luminaries
Ambient or functional, light brings your interior to life and reveals hues and colors in a theatrical play of shadows. New in ! Discover our new chrome-plated Vadim wall and ceiling lights.
The Double Play Chair family
Welcome to our home!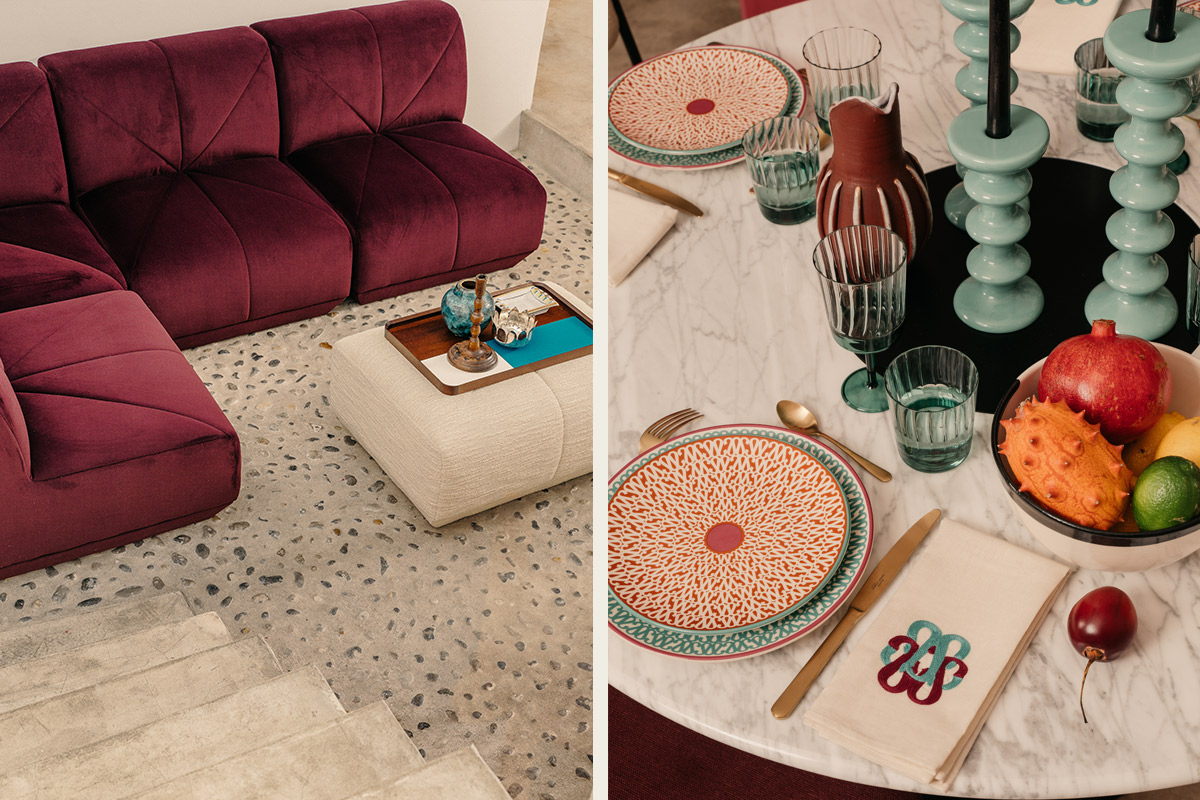 The Maison Sarah Lavoine shops
Each Maison Sarah Lavoine boutique is unique. A space thought like home from the living room to the dressing room! Warm, friendly and atypical in the treatment of the volumes, the relationship with light, the exceptional character of the building, the places signed Maison Sarah Lavoine offers a new colour scheme.
Maison Sarah Lavoine Interior Design Studio
The Maison Sarah Lavoine Interior Design Studio was founded in 2002 by Sarah Poniatowski with the desire to create timeless and lively spaces. The Company's style is recognised through the play of colour combinations, a blend of pieces, materials sublimated by the traditional know-how of its craftsmen and contemporary shapes. The taste for detail makes the difference and confers a natural elegance.
Maison Sarah Lavoine
for PRO
Today, Maison Sarah Lavoine creates its Contract division and serves professionals from all sectors (architects, decorators, offices, real estate promotions, hotels, restaurants and events) from the catalog offer to the personalization of projects. This division works transversally with all of the company's teams, which allows for real project monitoring and a better understanding of the needs of companies.
Since 2012, Maison Sarah Lavoine distills through its architectural projects and creations, its values and its bold vision of design: it dares to express and mix colors, lines and materials and creates warm and contemporary spaces that resemble her. Her collections of furniture, decoration, and ready-to-wear are elegant and uninhibited: timeless but original, simple but with a constant concern for detail, always colorful and resolutely ethically manufactured.
Maison Sarah Lavoine proposes an Art of Living, in the manner of a Lifestyle, which combines refinement and modernity: originality of creations, rigorous choice of materials, excellence of know-how.