Strong, elegant and designer pieces.
High quality furniture designed for timeless, elegant and unique interiors.
Each table, chest of drawers, sideboard or sofa combines traditional craftsmanship and high quality materials.
Choose from these signature pieces from our furniture collection.
Our Universe
Furniture, decoration, lighting, tableware, fashion…
Our different worlds meet in harmony, linked by the same know-how.
Garden furniture
On your terrace, by the pool or in your garden, the Sicilia outdoor collection is an invitation to relax. It takes up the signature stripes of the House tinted with sunny colours.
Riviera Collection
Courbes harmonieuses, teintes chaudes, savoir-faire artisanal… Bois, raphia, rotin ou veta vera, Maison Sarah Lavoine revisite ces matières naturelles en motifs graphiques.
Solar x Roussilhe Workshops
In partnership with Ateliers Roussilhe, Maison Sarah Lavoine is launching its first collection of sunglasses. Colourful and festive, these sunglasses are distinguished by their creative design as well as traditional, handcrafted manufacturing. Made in France, all the models in the new sunglasses line are unisex and made of organic acetate.
Reimagine your dressing room !
The Spring-Summer fashion collection is made up of timeless and strong pieces inspired by the seventies for a casual and stylish look.Bandana print, denim, vegetal colors or ranger look, succumb to the novelties of our summer wardrobe !
Let's keep in touch !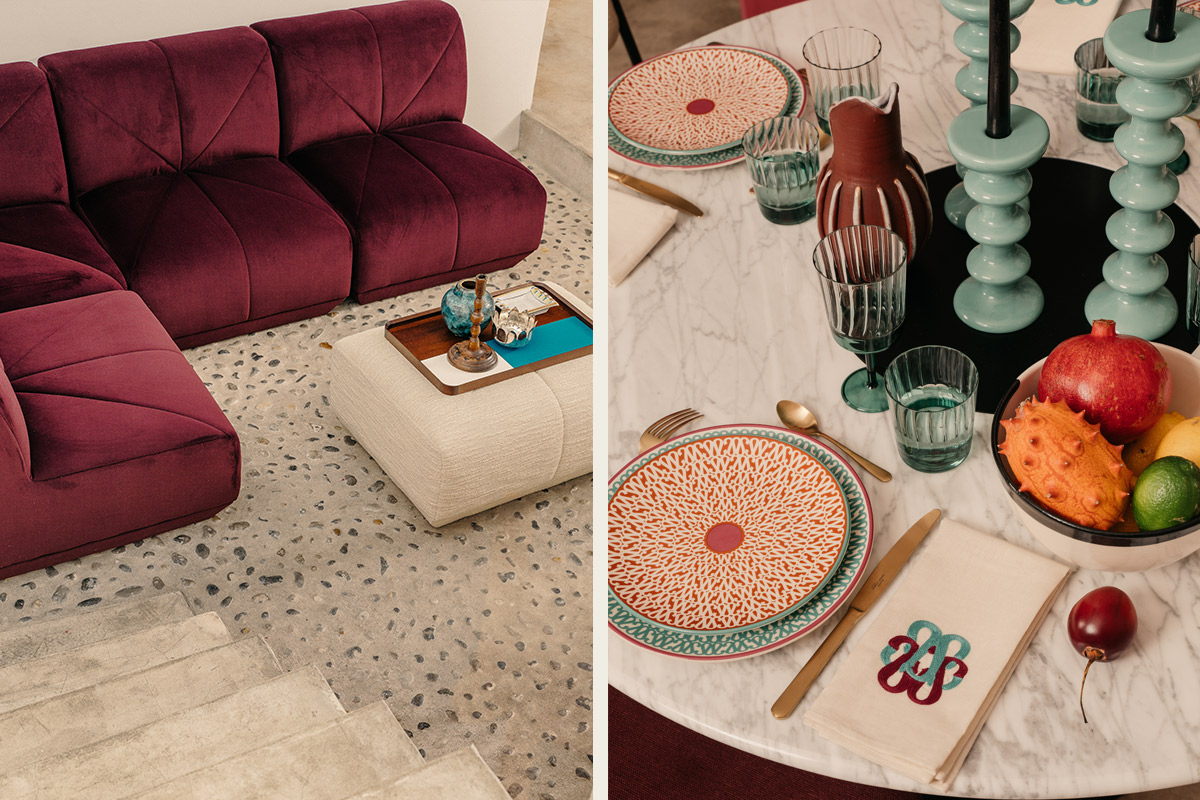 The Shops
Each shop is unique. A space thought like home from the living room to the dressing room! Warm, friendly and atypical in the treatment of the volumes, the relationship with light, the exceptional character of the building, the places signed Maison Sarah Lavoine offers a new colour scheme.
Interior Architecture Studio
The Interior Design Studio was founded in 2002 by Sarah Poniatowski with the desire to create timeless and lively spaces. The Company's style is recognised through the play of colour combinations, a blend of pieces, materials sublimated by the traditional know-how of its craftsmen and contemporary shapes. The taste for detail makes the difference and confers a natural elegance.
Maison Sarah Lavoine
for PRO
Today, Maison Sarah Lavoine creates its Contract division and serves professionals from all sectors (architects, decorators, offices, real estate promotions, hotels, restaurants and events) from the catalog offer to the personalization of projects. This division works transversally with all of the company's teams, which allows for real project monitoring and a better understanding of the needs of companies.
Since 2012, Maison Sarah Lavoine distills through its architectural projects and creations, its values and its bold vision of design: it dares to express and mix colors, lines and materials and creates warm and contemporary spaces that resemble her. Her collections of furniture, decoration, and ready-to-wear are elegant and uninhibited: timeless but original, simple but with a constant concern for detail, always colorful and resolutely ethically manufactured.
Maison Sarah Lavoine proposes an Art of Living, in the manner of a Lifestyle, which combines refinement and modernity: originality of creations, rigorous choice of materials, excellence of know-how.